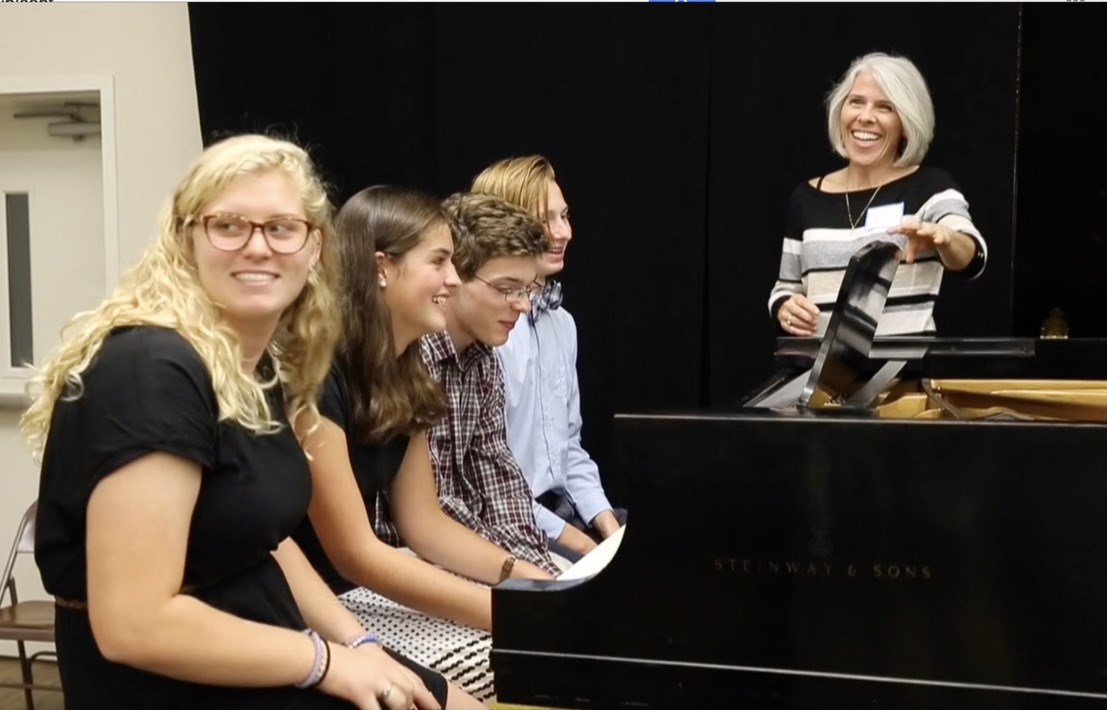 Janet Maass Fitz, owner and director of the Lancaster Contemporary School of Music
Why collaborative music?
What's the driving force behind group lessons at the Lancaster Contemporary School of Music?
It's all about making connections!
Music is engaging and brings people together.
LCSM provides a space for developing musicians to explore and connect with other musicians along their music making journey.
Discover the excitement and camaraderie of group lessons at LCSM!
Here's the back story:
Janet grew up in a musical family, and, naturally, enjoyed singing and making music at home and in the children's and youth choirs at church. At the age of 7, Janet desperately wanting to play the flute like her big sister, so she taught herself how to play! Lucky for Janet, the elementary school band director made an exception, and allowed her to join the school band in second grade. She was so excited and relieved that she wouldn't have to wait until 4th grade to join the school band!

A year later, Janet started taking piano lessons from the lady down the street. Her parents gave her $4.00 cash to pay the piano teacher at each lesson. Janet continued playing flute in elementary, middle school, and high school bands. She played the piano in middle school and high school jazz band, and added percussion to her repertoire of instruments to play in the high school band. Making music with friends was forever the highlight of the day!
As a music student at West Chester University, Janet began teaching piano lessons at the community music school, and instructed high school drumlines in Delaware and Virginia. After receiving her B.S. Music Ed degree from WCU, Janet maintained a private teaching studio while working full time as an Elementary Classroom Music Teacher and part time High School Drumline Instructor in DE public schools. Janet soon married her college beau, Richard, while he was serving in the U.S. Air Force Band as Percussionist and Keyboardist. While stationed at McGuire AFB, NJ, and Langley AFB, VA, Janet taught all areas of music education in the public schools, including Elementary Classroom and Vocal Music, Middle School Band, High school Vocal/Choral Music, Percussion and Drumlines, and private piano lessons.
After starting a family, Richard took a civilian job as Director of Instrumental Music at his high school alma mater, which brought them to New Holland, PA, where Janet has maintained a vibrant teaching studio while raising their three children.
Janet looks forward to assisting you in your musical journey!